Avoiding Complications Due to Low Blood Flow Rates in Femoral Catheters
Every patient responds differently to cardiopulmonary bypass (CPB) and has unique requirements depending on their body composition. One thing that cannot be compromised during CPB is blood flow.
Adequate blood flow during cardiopulmonary bypass is extremely important to maintaining optimal perfusion during surgery and to help prevent post-operative complications such as brain injury. A 2015 study concluded that in conventional CPB, the reason for cerebral desaturation was the failure to achieve the target blood flow rate.[1]
Maintaining adequate venous drainage into the reservoir is essential to provide CPB support and prevent patient air embolism.[2] Blood flow is also important to preserve the kidneys, gut function and respiratory function.
The cannula choice for percutaneous insertion can make a significant difference in blood flow, thus affecting the blood pressure, oxygen delivery to body tissues, and the cardiac output.[3]
The ALPINE Femoral Venous Catheter from Surge Cardiovascular offers equal or greater flow rates compared to competitive cannulae at a smaller Fr size. The figure below is a visual representation of catheter performance; including flow rates from the ALPINE and top competitors.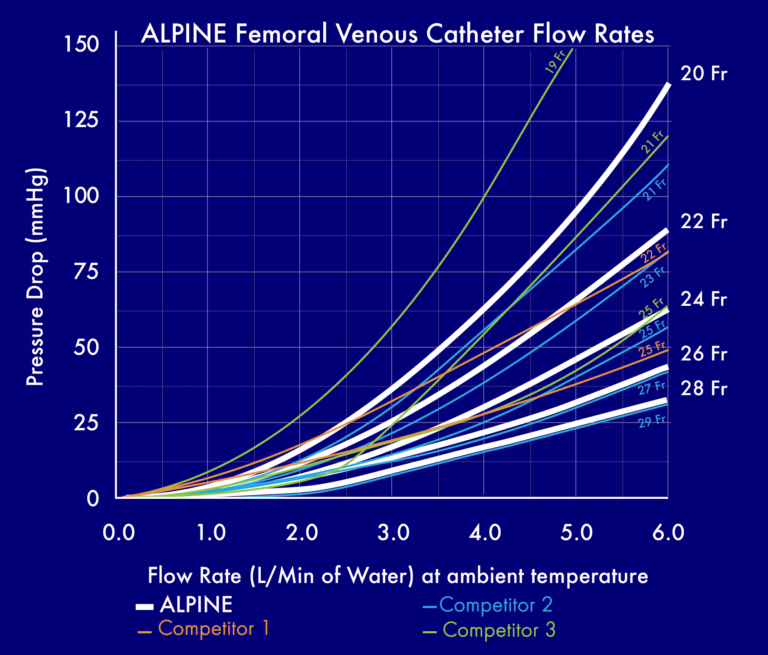 The ALPINE Femoral Venous Cannula offers optimized drainage and improved percutaneous insertion through its unique and innovative multi-stage design. With five size options, proximally placed drainage locations and seven wire-reinforced baskets, the ALPINE offers improved blood flow rates while maintaining high-quality insertion and performance.
To learn more about the ALPINE Femoral Venous Catheter from Surge Cardiovascular, call 888-891-1200 or email us to be connected to your local sales representative.
MED Alliance Solutions is an ISO 13485 certified medical device distributor specializing in the importation, sales, marketing, logistics and distribution of cost-effective and innovative cardiac medical devices throughout the US.
Please follow us on LinkedIn, Facebook and Twitter for product updates!
[1] https://www.ncbi.nlm.nih.gov/pubmed/25143413).
[2] https://academic.oup.com/bjaed/article/6/5/176/337119