Safely and Efficiently Control Your Exposure to Bloodborne Pathogens
According to a survey from the Exposure Prevention Information Network (EPINet®), nearly half of all blood and body fluid exposures in U.S. hospitals happen to nurses, with 68% of those exposures involving blood or blood products.[1]
Incidents such as these can occur when caring for a post-operative patient with a drainage catheter and reservoir bulb. Nurses may need to expel the bulb's contents and in doing so risk exposing themselves to bloodborne pathogens.
The Occupational Safety and Health Administration (OSHA) requires healthcare facilities to follow OSHA's Bloodborne Pathogens Standard and implement an exposure control plan to help reduce or eliminate exposure to staff.2 According to OSHA, engineering controls such as the use of safer medical devices are the primary means of eliminating or minimizing employee exposure to bloodborne pathogens.
Take control of your environment with the only Silicone Closed Drainage System on the market.
The DRENTECH Silicone Reservoir and Closed System from Redax reduces the chance of exposure to biological hazards when disposing of body fluids. This proprietary design keeps blood and body fluids within the collection circuit with its "closed system" design and anti-reflux valves.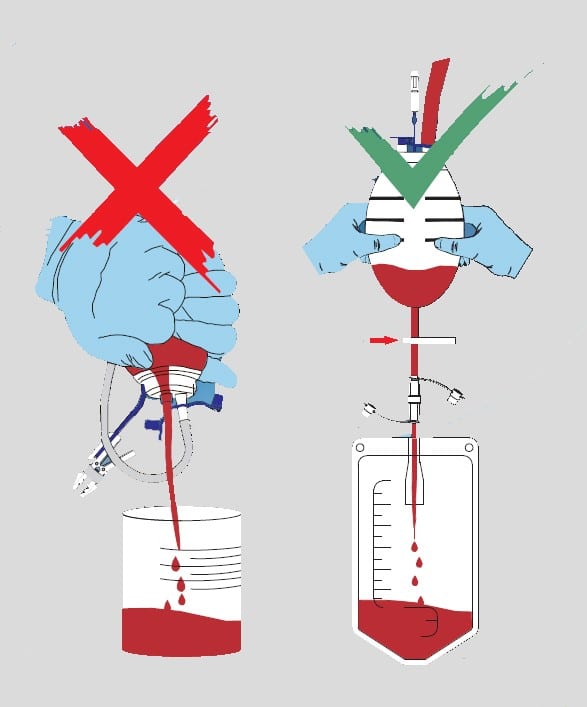 Closed System
The Redax DRENTECH Reservoir proprietary closed system features an additional bag that can be securely connected via a closed system to allow for continuous drainage. Rather than emptying the full bag into a measuring device and increasing the risk of exposure to bloodborne pathogens, users only change the drainage bag and activate the bulb evacuator.
Anti-Reflux Valves
The internal anti-reflex valve on the reservoir bulb prevents backflow of fluid and air for patient safety, while the valve on the collection bag helps clinicians avoid fluid leakage and contamination. The dual inlet ports on the 200 ml and 400 ml reservoirs also allow for the connection of two drains without a Y-connector – something that is necessary in around 50% of surgical procedures.
Silicone Construction
The bulb shape and clear silicone construction enhance the clinician's ability to measure and identify the fluid type, making it easier to manage the post-operative drainage. The silicone construction also allows for continuous suction, which minimizes tissue trauma, reduces the risk of bruising and thus increases patient satisfaction.
The Redax DRENTECH Silicone Reservoir and Closed System is a versatile and compatible product created to enhance efficient drainage, safety and patient satisfaction. To learn more about the Redax DRENTECH proprietary closed system or the other drainage solutions from Redax, call 888-891-1200 or email us to be connected to your local sales representative.
MED Alliance Solutions is an ISO 13485 certified medical device distributor specializing in the importation, sales, marketing, logistics and distribution of cost-effective and innovative cardiac medical devices throughout the US.
Please follow us on LinkedIn, Facebook and Twitter for product updates!
[1] https://www.americannursetoday.com/blood-body-fluid-splashes/