Reap the Benefits of the Unique Redax Coaxial Catheter in Thoracic Surgery Procedures
Thoracic surgery procedures such as pulmonary lobectomies/segmentectomies require fluid and air removal from the pleural cavity to prevent postoperative complications. Surgeons typically make multiple incisions using multiple drains to remove both fluid and air. The Redax Coaxial is a unique dual-action catheter specifically designed to aid in these types of procedures. The Coaxial drain features an internal lumen with perforations for air removal and an outer fluted design for fluid removal – all in one drain.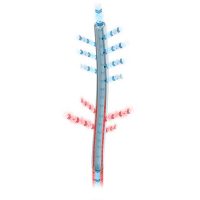 In a thoracic procedure, the Coaxial is typically placed in the posterior position of the pleural cavity, with the distal end positioned apically.
Once the patient's incisions are closed, the Coaxial begins working immediately. The inner lumen evacuates air that commonly accumulates in the superior pleura, while the full fluted profile enables full-length drainage with four distinct channels. This dual-action design separates air and fluid for simultaneous evacuation thereby aiding in more rapid restoration of lung function and mobility[1].
An additional feature of the Redax Coaxial is its high-flow, direct transition from the in-dwelling design to a single bore tube. A recent study from the University of Eastern Piedmont, Novara, Italy, shows the CoAxial catheter evacuated on average 73% of total volume within the early post-operative hours as compared to a conventional chest tube with 48%.[2] Competitive fluted catheters have an indirect transition spanning a few inches compromising flow and a higher likelihood of thrombus formation, leading to chest tube occlusion. The Coaxial's direct transition increases flow to maintain patency, reducing the risk of thrombus formation.
The Coaxial uses a common removal technique but from a single incision site. The fluted design minimizes tissue invagination and the flexibility of the silicone construction reduces patient pain and discomfort for early mobilization1. The drain is also bio and hemocompatible.
To learn more about the Redax Coaxial, call 888-891-1200 or email us to be connected to your local representative.
[1] Rudith Guzmán, MD,  David Sánchez Lorente, MD, Marc Boada, MD, Angela Guirao, MD Jose María Gimferrer, MD, Abel Gómez-Caro, MD, Alejandra Libreros, MD, Laureano Molins, MD, PhD, FETCS. Hospital Clínic de Barcelona, Barcelona, Spain. "Results of Silicone Drain Use for VATS Lobectomy, A Prospective Study."
[2] Rena  O,  Parini  S,  Papalia  E,  Massera  F,  Turello D, Baietto G, Casadio C. The Redax ® Coaxial Drain in pulmonary lobectomy: a study of efficacy. J Thorac Dis 2017. doi: 10.21037/jtd.2017.08.110
¹ Click Here to Read a Clinical Study from The University of Eastern Piedmont, Novara, Italy.