Will Younger Cardiac Surgery Patients Lead to an Increase in MICS?
A recent study from the Journal of the American College of Cardiology found that Myocardial Infarction (MI) is increasing in prevalence among young adults[1]. The study found that the proportion of very young people (40 or younger) having a heart attack has increased by 2 percent each year for the last 10 years and that 20 percent of heart attack patients are 40 years old or younger[2].
"It used to be incredibly rare to see anyone under age 40 come in with a heart attack–and some of these people are now in their 20s and early 30s," said Ron Blankstein, MD, a preventive cardiologist at Brigham and Women's Hospital, associate professor at Harvard Medical School in Boston and the study's senior author. 2
Blankstein explained that once a patient has had a heart attack, no matter their age, they are at risk for additional cardiovascular events.
As cardiothoracic surgeons see younger patients, the way in which they approach treatments can vary based on overall patient factors. However, recent studies show that certain minimally invasive procedures prove better than open surgery in young, healthy patients[3]. Minimally invasive techniques have less of an impact on a young patient's body and have often resulted in earlier discharge, less pain and less scarring.[3] Therefore, the increasing number of younger patients with Myocardial Infarctions may lead to an increase in the implementation of minimally invasive techniques.
Minimally Invasive Cardiac Surgery (MICS) requires specialized instrumentation. MED Alliance Solutions offers a variety of high-quality and cost-effective cardiothoracic surgical devices specifically designed to optimize and enhance new and innovative surgical techniques.
Surge Cardiovascular
ALPINE Femoral Venous Cannula
The ALPINE Femoral Venous Cannula is designed to optimize drainage and facilitate improved vascular access. With a wide range of sizes (20-28 French) and twenty-eight slotted drainage holes for greater flow rates, the surgeon can choose the cannula size based on a patient's anatomy without losing drainage capability. Wire-wound baskets maintain high flow, even as the left atrium is retracted. The ALPINE boasts a best-in-class cannula to introducer transition and a tapered/elongated introducer tip designed for improved percutaneous insertion and precise guide wire tracking.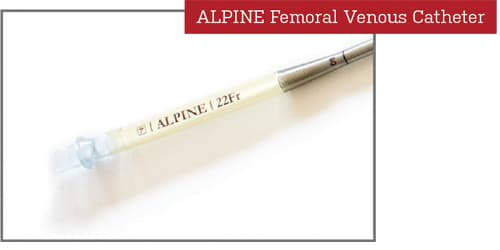 Extended Length Vented Antegrade Cardioplegia Cannula
The Extended Length Vented Antegrade Cardioplegia Cannula enables aspiration into the secondary lumen directly outside the aortic wall to mitigate reinfusion of air emoboli. The cannula features universal connection to cardioplegia lines, a vent-line clamp for easy-on or off venting, and a dual-port tip for improved infusion and venting capability.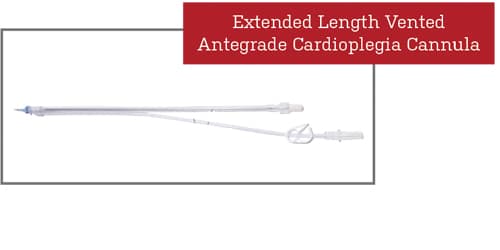 Mini Suture Guide
The Mini Suture Guide offers a low-profile and versatile placement proving better conformance to a smaller incision and patient anatomy.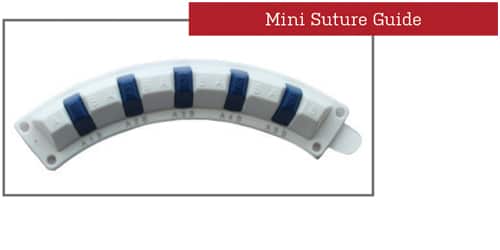 Redax
Coaxial and Kardia Spiral 
Coaxial and Kardia Spiral thoracic catheters can be used in a right lateral thoracotomy, with the Coaxial placed apically in the pleural space to remove air and fluid simultaneously. The Kardia Spiral is ideal for posterior pericardial drainage, based on its ability to be contoured in this tight cavity to maintain a high-surface drainage area and maximal flow through the drains' direct, high-flow transition.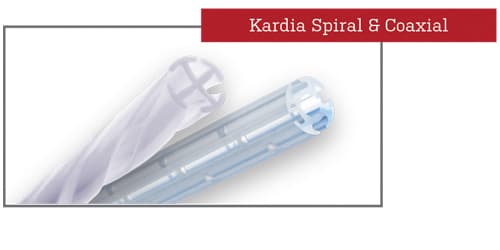 Delacroix-Chevalier & Péters Surgical
To learn the Delacroix-Chevalier or Péters Surgical MiMVR products offered through MED Alliance Solutions, call us at 888-891-1200 or email us to get in touch with a representative.
To learn more about our products from Surge Cardiovascular, Delacroix-Chevalier and Redax, call 888-891-1200 or email us to be connected to your local representative.
MED Alliance Solutions is an ISO 13485 certified medical device distributor specializing in the importation, sales, marketing, logistics and distribution of cost-effective and innovative cardiac medical devices throughout the U.S.
Please follow us on LinkedIn, Facebook and Twitter for product updates!
---
[1] Blankstein, Ron, et. al. "RISK FACTOR PROFILES AND OUTCOMES OF VERY YOUNG ADULTS WITH MYOCARDIAL INFARCTION: RESULTS FROM THE YOUNG-MI REGISTRY." Journal of the American College of Cardiology Mar 2019, 73 (9 Supplement 2) 3; DOI: 10.1016/S0735-1097(19)33765-9
[2] ACCmediacenter. "Heart Attacks Increasingly Common in Young Adults." EurekAlert!, 7 Mar. 2019, www.eurekalert.org/pub_releases/2019-03/acoc-hai030519.php.
[3] Vascular Institute. "Minimally Invasive Heart Surgery Vs Open Heart Surgery." UPMC HealthBeat, UPMC HealthBeat, 29 Aug. 2018, share.upmc.com/2016/03/heart-surgery-best/.