Summary of Dr. Mueller ESTS Lubiana 2018 Poster on Redax Coaxial Thoracic Drain Performance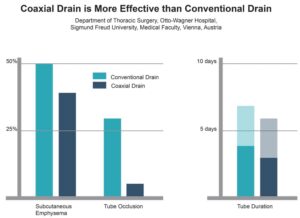 The Department of Thoracic Surgery, Otto-Wagner Hospital, Sigmund Freud University Medical Faculty in Vienna, Austria released the findings from an independent clinical study comparing Redax Coaxial drains to conventional chest tubes. The Redax Coaxial was introduced to the Thoracic Surgery Department as having the unique ability to effectively remove air through an internal lumen with distal bores while simultaneously collecting fluid through its external fluted profile. The Coaxial is also promoted to enhance flow and maintain patency due to its direct high-flow transition from the in-dwelling design to a single bore tube.
The Clinical Study
One hundred thirty-six lung lobectomy patients were randomly selected to receive either a 24Fr conventional tube or a 24Fr Coaxial drain. The study compared:
• Air Flow
• Fluid Amount
• Subcutaneous Emphysema
• Tube Occlusion
• Drain Duration
The Clinical Findings
Similar results were found in reference to air leakage and drainage volumes, however:
Subcutaneous Emphysema occurred in

50% of patients with conventional tubes
40% of patients with Coaxial drains

Tube Occlusion was observed in

30% of patients with conventional tubes
5% of patients with Coaxial drains

Drain Duration occurred

7 to 4 days with conventional tubes
6 to 3 days with Coaxial drains
The Clinical Conclusion
The Coaxial drain is efficient in evacuating leaking air while its use is associated with lower incidence of emphysema and drain occlusion as compared to the conventional tube. In addition, the Coaxial drain was associated with shorter chest tube duration and related shorter hospitalization.
Click here to review the study.
Click here to download the Redax Coaxial brochure.
To learn more about the Redax Coaxial thoracic catheter, call 888-891-1200 or email us to be connected to your local sales representative.
MED Alliance Solutions is an ISO 13485 certified medical device distributor and has been dedicated to meeting the needs of our clinical customers and manufacturing partners since 2007. We specialize in the sales, marketing, importation, logistics and distribution of innovative, high-quality and cost-effective cardiovascular and cardiothoracic medical devices on a national basis.
Please follow us on LinkedIn, Facebook and Twitter for product updates!