Effective Thoracic Drainage for Optimal Patient Outcomes
Mediastinal and pleural chest tubes are a standard perioperative device used to monitor bleeding and help to prevent complications such as pleural effusion, hemothorax and tamponade.[1] Ineffective drainage that leads to these types of issues can prolong recovery, lead to other complications such as atrial fibrillation and sometimes become life-threatening.[2]
Redax has developed a range of Silicone Thoracic Catheters to enhance drainage and help prevent postoperative complications. Redax Silicone Thoracic Catheters allow cardiac and thoracic surgeons the ability to choose the best positioning angle for any procedure for optimal drainage. The catheters are designed for positioning, patency and drainage, all while enhancing patient outcomes and comfort.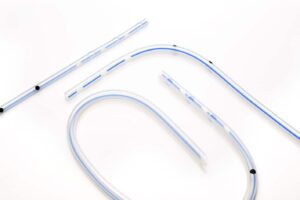 Each catheter features elliptical and tapered smooth side eyes with an open distal tip in order to minimize occlusion and encourage fluid evacuation.
Additionally, the soft, flexible silicone reduces pain in early ambulation and upon removal. Silicone Thoracic Catheters from Redax come in straight or angled options to accommodate a variety of positions during cardiac and thoracic procedures and are available in sizes from 12 Fr up to 36 Fr.
To learn more about the Silicone Thoracic Catheters and other wound drainage products from Redax, please call 888-891-1200 or email us to be connected to your local representative.
MED Alliance Solutions is an ISO 13485 certified medical device distributor specializing in the importation, sales, marketing, logistics and distribution of cost-effective and innovative cardiac medical devices throughout the US.
Please follow us on LinkedIn, Facebook and Twitter for product updates!
---
References:
[1] https://www.ncbi.nlm.nih.gov/pubmed/19740284
[2] https://www.sciencedirect.com/science/article/pii/S1110578X18301068