Cardiothoracic Surgeon Tom Nguyen Provides Keynote Address at MAS National Sales Meeting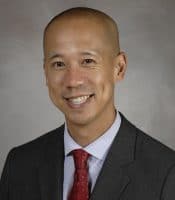 Dr. Tom C. Nguyen, Cardiothoracic Surgeon, UTHealth
University of Texas Health Cardiothoracic Surgeon Dr. Tom Nguyen will provide the keynote address during the MED Alliance Solutions National Sales Meeting. MED Alliance will host more than 50 medical device sales representatives and manufacturing partners at its 11th Annual National Sales Meeting, September 16 – 17 in Rosemont, Illinois.
The annual meeting serves to provide MED Alliance's national sales force with hands-on-training and continuing education on the comprehensive portfolio of cardiothoracic surgery medical devices offered through MED Alliance Solutions.
"We are honored to have Dr. Nguyen provide his perspective of product utilization in cardiothoracic surgery procedures," said MED Alliance Solutions Vice President of Sales Mike Schroeder.
ABOUT DR. NGUYEN
Dr. Nguyen received his doctorate from Johns Hopkins University in 2002 and spent almost 10 years at Stanford University practicing in general and cardiothoracic surgery. With extensive experience in minimally invasive surgery including aortic and mitral valve repairs, Dr. Nguyen lectures nationally and internationally to teach other surgeons these techniques. Dr. Nguyen holds several positions with the UTHealth McGovern Medical School including, but not limited to: Associate Professor, Director of Minimally Invasive Valve Surgery and Co-Director of the Structural Heart Program.
"MED Alliance Solutions offers multiple cardiothoracic surgery medical devices that can be utilized in many of the procedures Dr. Nguyen performs," said Schroeder. "We are excited to hear how our medical devices can solve real problems and help surgeons deliver better patient outcomes."
MED ALLIANCE PARTNERS
The MED Alliance portfolio consists of products from Delacroix-Chevalier, Surge Cardiovascular, Redax, and Peters Surgical. Click here for more information about the cardiovascular and cardiothoracic surgery medical devices offered. Email us or call 888-891-1200 to be connected to a local sales representative.
MED Alliance Solutions is an ISO 13485 certified medical device distributor and has been dedicated to meeting the needs of our clinical customers and manufacturing partners since 2007. We specialize in the sales, marketing, importation, logistics and distribution of innovative, high-quality and cost-effective cardiovascular and cardiothoracic medical devices on a national basis.
Please follow us on LinkedIn, Facebook and Twitter for product updates!