The Evolution of Efficient Thoracic Drainage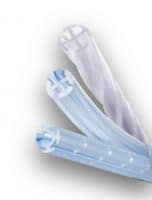 Every cardiac surgery case requires the use of a chest drainage system to thoroughly drain body fluid and air within the thoracic cavity. The concept of chest drainage has existed for hundreds of years, and over time the methods and materials used for thoracic drainage have greatly evolved.
Cardiothoracic surgeons are now faced with more complex procedures, older and sicker patients, pressure to avoid complications, and the need to focus on reducing costs. Changing techniques over the last few decades require drainage products that can keep up with surgeon and patient needs.
Knowing what to look for in a thoracic catheter is essential to obtaining ideal patient results while maintaining fiscal responsibility.
Paradigm Shifts in Thoracic Drainage Tubes
Advances in science and technology have inspired innovative drainage designs that can accommodate increasingly complicated procedures. With the right chest drains in place, complications arising from occluded chest tubes are often avoidable. There are essential drain features such as silicone compositions, fluted designs, and direct high-flow transitions that may mitigate these issues and further enhance patient satisfaction and procedural outcomes.
PVC to Silicone
The biocompatibility of thoracic catheters is an important factor in determining whether the drain will perform its full function without eliciting undesirable side effects. In previous years, one of the most common materials to use was polyvinyl chloride, or PVC. Though PVC is thermoplastic, the pure polymer is hard and stiff and requires additional plasticizers to make them soft and flexible[1].
The various complications associated with PVC led many catheter manufacturers to shift to the implementation of silicone. Silicones are the most thoroughly tested and widely used groups of biomaterials and is known for its intrinsic biocompatibility and biodurability.1 The material composition is soft, yet kink-resistant and conforms to anatomical structures, lends to a less traumatic removal, and is more elastic for function. Silicone is biologically inert, non-allergenic, DEHP-free, and chemically stable with low surface tension leading to hydrophobic characteristics.
Overall, silicone catheters are a better alternative to PVC and can increase patient comfort and ambulation time[2].
Perforated vs Fluted
The shift from a perforated design to a fluted design in thoracic catheters plays a significant role in the improved drainage, reduced tissue invagination, ease of removal, and continuity of flow even in the presence of formable thrombi.
Perforated drains have a single-lumen, hole punched design that is prone to tissue invagination, while fluted designs offer multiple drainage routes that resist occlusion and minimize patient discomfort. Essentially, newer fluted designs allow for drainage by capillarity effect for optimal performance.
Direct High-Flow Transitions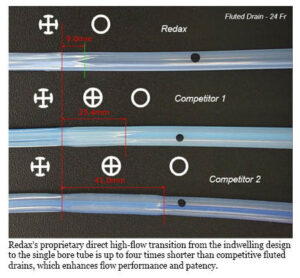 A unique and innovative feature found in newer drain technology is a direct transition from the in-dwelling design to single bore tube. Fluted drains without a direct transition are more prone to occlusion due to the restrictive flow in this section of the catheter. A direct transition increases flow and thereby helps maintain patency to reduce the risk of reintervention due to occlusion of wound drain.
The Solution
Redax has spent years researching and working with surgeons, engineers and physician leaders to develop a high-quality, well designed thoracic catheter that can make a significant impact in increasing drainage capabilities, reducing costly post-surgical interventions, and aiding in patient recovery and satisfaction.
Redax products such as the Coaxial, Kardia Spiral and Smart Drain are redefining the thoracic catheter. The Coaxial, Kardia Spiral and Smart Drain are the only models to offer silicone compositions, fluted channels, and direct high-flow transitions in one innovative design. The four-channel fluted profile increases drainage surface area as much as 10x compared to conventional drains[3].
Alongside these features, the Coaxial and Kardia Spiral each have specific characteristics that further enable efficient and effective drainage depending on the surgeon's preferences and needs.
CoAxial
The Redax Coaxial enables simultaneous evacuation of air and fluid via its dual-action design of an inner perforated lumen with fluted outer channels. Its design and material have proven effective in the reduction of tube occlusion even when expelling large amounts of fluid[4]. Patients have also reported less pain associated with the use of the Coaxial thoracic catheter[5].
Kardia Spiral
The Kardia Spiral's helical design enables enhanced performance in highly complex positioning, even in the case of hemorrhagic situations[6]. The spiral design offers alternative drainage routes that may eliminate blocking from blood clots and reduces the possibility of occlusion and kinking.
With the high demand for thoracic catheters in cardiac and thoracic procedures, it's important to have a reliable device by your side. Redax has developed multiple solutions for effective and quality drainage through their proprietary designs.
To learn more about these or other effective drainage solutions from Redax, call 888-891-1200 or email us to be connected to your local sales representative.
MED Alliance Solutions is an ISO 13485 certified medical device distributor specializing in the importation, sales, marketing, logistics and distribution of cost-effective and innovative cardiac medical devices throughout the U.S.
Please follow us on LinkedIn, Facebook and Twitter for product updates!
---
[1] Trooskin SZ and Mikulaschek AW.  Biomaterials Used for Catheters.  In: Implantation Biology: The host response and biomedical devices.  (Greco RS, ed.)  Boca Raton: CRC Press, pp. 267-286, 1994.
[2] Francois Brinquet, Andre Colas and Xavier Thomas. Silicones for medical use. Dow Corning France – European Healthcare Centre, 1996, p. 10.
[3] Redax. 2018. Coaxial: Progressive Solutions in Thoracic Catheters [Brochure]. Sycamore, IL: MED Alliance Solutions, LLC.
[4] Salama M, MD, PhD; Akan A, MD; Holbik J, MD; Mueller MR, MD, PhD. Department of Thoracic Surgery, Otto-Wagner Hospital, Sigmund Freud University, Medical Faculty, Vienna, Austria. Coaxial Drain is More Effective in Air Leak Evacuation after Lung Lobectomy
[5] Rudith Guzmán, MD,  David Sánchez Lorente, MD, Marc Boada, MD, Angela Guirao, MD Jose María Gimferrer, MD, Abel Gómez-Caro, MD, Alejandra Libreros, MD, Laureano Molins, MD, PhD, FETCS. Hospital Clínic de Barcelona, Barcelona, Spain. "Results of Silicone Drain Use for VATS Lobectomy, A Prospective Study."
[6] Stefano Moriggia, MD, Andrea Blasio, MD, Chiara Calbrese, MD, Ottavio Alfieri, MD. Division of Cardiac Surgery – San Raffaele Hospital, Milan Italy; "Flexible Small Spiral Drains in Cardiac Surgery. Experience in 150 Patients."