Study Shows: Patients Report Less Pain Associated to Use of Redax Coaxial Thoracic Catheter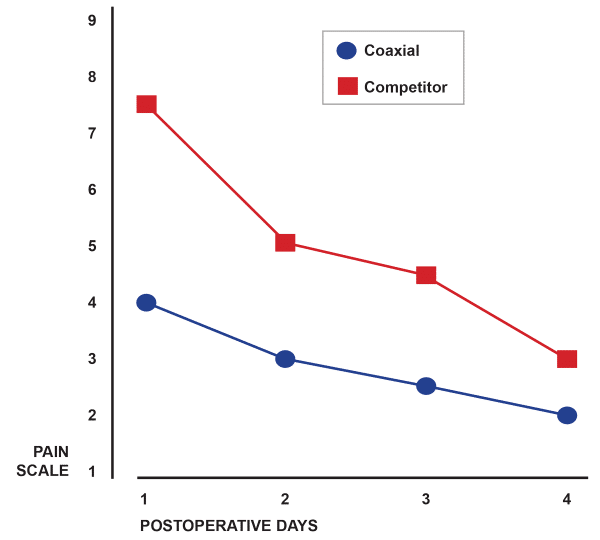 Pain can be a large factor in a patient's recovery from thoracic surgery. Pain can hinder early mobilization which can lead to an extended length of stay. Thoracic surgeons try to utilize devices and instruments that cause less pain and lead to better outcomes.
Dr. Laureano Molins presented a prospective study performed at Hospital Clinic de Barcelona to colleagues attending the 2018 European Society of Thoracic Surgeons Conference. The study compared the Redax Coaxial drain to a conventional drain in terms of pain reduction in patients undergoing VATS lobectomy.
Sixty patients were randomly selected over the course of one year to receive either a competitor's conventional tube or a Coaxial drain. The study compared pain reported in the first two postoperative days and the need for rescue analgesia.
The study concluded that patients who received the Coaxial drain reported significantly less pain and need for rescue analgesia compared to those who received the conventional drain (p ≤0.05). The study also found that Coaxial patients had slightly fewer drainage days and shorter hospital length of stay.
The Coaxial's soft silicone construction and fluted design are contributing factors to patients experiencing less pain. The fluted design minimizes tissue invagination and the flexibility of the silicone construction reduces patient pain and discomfort for early mobilization.
The Coaxial's dual-action design and direct high-flow transition contribute to the study's other findings. While the inner lumen evacuates air, the full fluted profile with four distinct channels enhances drainage surface area as much as 10x compared to traditional drains. The drain's direct high-flow transition from the in-dwelling design to a single bore tube increases flow to maintain patency and reduce the risk of occlusion by thrombus formation. The Coaxial's high flow rates and patency can benefit patients by decreasing drainage days and hospital length of stay.
MED Alliance Solutions is the exclusive U.S. distributor of Redax, an Italian manufacturer of silicone thoracic catheters. We are dedicated to representing high-quality, cost-effective and innovative medical devices that improve patient care.
To learn more about the Redax Coaxial, call 888-891-1200 or email us to be connected to your local representative.
MED Alliance Solutions is an ISO 13485 certified medical device distributor and has been dedicated to meeting the needs of our clinical customers and manufacturing partners since 2007. We specialize in the sales, marketing, importation, logistics and distribution of innovative, high-quality and cost-effective cardiovascular and cardiothoracic medical devices on a national basis.