Study Concludes the Coaxial Thoracic Drain Contributes to Improving Postoperative Recovery
Dr. Tadaaki Koyama, Director of Cardiovascular Surgery at Kobe City Medical Centre General Hospital in Japan, presented his findings of the clinical benefits of the Coaxial drain tube when used in cardiovascular surgery. Specifically, Dr. Koyama compared the amount of blood retention from the Coaxial against conventional fluted drains when used in postoperative drainage following thoracoabdominal aortic replacements.
The Clinical Study
19 cases
11 Cases Used Two 24 Fr Coaxial Drains
8 Cases Used Two 24 Fr Conventional Fluted Drains
Compared Blood Retention Immediately After Surgery and POD#6
The Clinical Findings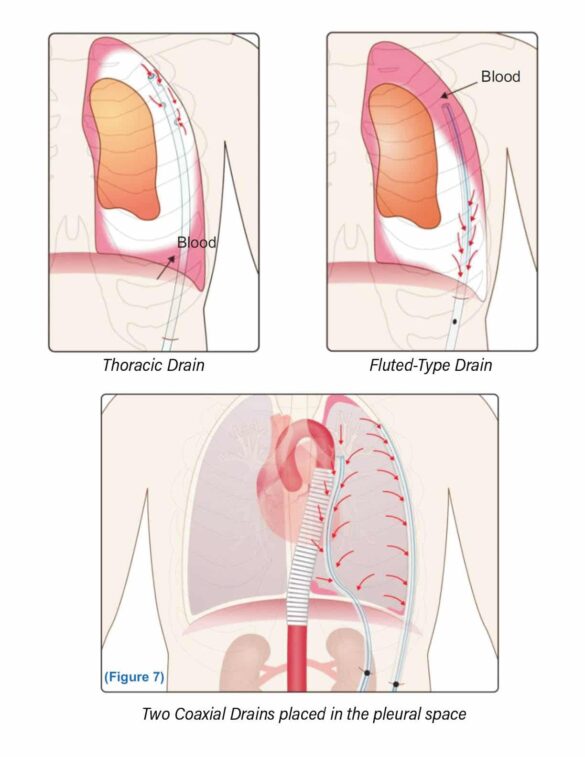 There were no major postoperative complications found in either group. However, X-rays taken immediately after surgery and on POD#6 showed 50% of the conventional fluted-type drain group had blood retention in the pleural space, while there was no blood retention in the Coaxial group.
Dr. Koyama notes that traditional perforated and conventional fluted-type drain tubes do not permit drainage over the entire length of the drain, but the Coaxial drain enables efficient blood drainage over the whole tube while also removing air due to its hybrid structure that incorporates both perforations and a fluted profile.
Moreover, Dr. Koyama notes that since they started using Coaxial drains, the number of cases in which blood is retained in the large pleural spaces has reduced due to the Coaxial's reliable and efficient drainage.
Conclusion
The Coaxial enables effective drainage of blood and air during and after surgery to repair thoracoabdominal aortic aneurysms where drainage of a large space is required, and thus make it possible to avoid retained blood in the pleural space and improve postoperative recovery.
To view the study, click here.
To learn more about the Redax Coaxial thoracic catheter, call 888-891-1200 or email us to be connected to your local sales representative.
MED Alliance Solutions is an ISO 13485 certified medical device distributor and has been dedicated to meeting the needs of our clinical customers and manufacturing partners since 2007. We specialize in the sales, marketing, importation, logistics and distribution of innovative, high-quality and cost-effective cardiovascular and cardiothoracic medical devices on a national basis.
Please follow us on LinkedIn, Facebook and Twitter for product updates!