Minimize Patient Discomfort with the Redax Coaxial Drain
Postoperative pain following thoracic surgery can be a significant factor in a patient's recovery process. Improving patient comfort using unique devices and instruments is important to promote early mobilization and restore lung function. This, in turn, enhances patient outcomes.
Multiple studies from surgeons around the world have come to the same conclusion: The Coaxial from Redax proves to be more comfortable for patients than standard chest drains, all while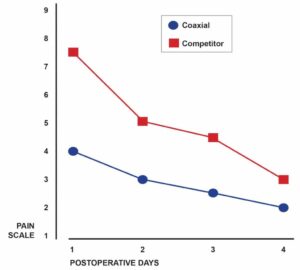 simultaneously and efficiently evacuating air and fluid from the pleura.
A prospective randomized study from Dr. Laureano Molins at Hospital Clinic de Barcelona analyzed the efficacy of the Coaxial compared to a conventional drain in terms of pain reduction in patients undergoing VATS lobectomy.
The study concluded that patients who received the Coaxial drain reported significantly less pain and need for rescue analgesia compared to those who received the conventional drain (p ≤0.05). The study also found that Coaxial patients had slightly fewer drainage days and shorter hospital length of stay.[1]
Similar conclusions were found in an independent clinical study performed at the Thoracic Surgery Department at the University of Eastern Piedmont in Novara, Italy. After comparing patients receiving a 24 Fr Redax Coaxial drain to patients receiving a 24 Fr standard chest tube, the authors conclude the Redax Coaxial drain is superior to standard chest tubes in fluid evacuation and patient comfort. In addition, the study indicates that the Redax Coaxial is safe and efficient in air-leak and fluid evacuation.[2]
Unique Benefits of the Redax Coaxial – All in One Drain
The Coaxial Drain is a dual-action, single-incision catheter with a soft silicone construction and fluted design. The fluted design minimizes tissue invagination and the flexibility of the silicone construction reduces patient pain and discomfort for early mobilization.
The Coaxial's dual-action design and direct high-flow transition contribute to the study's other findings. While the inner lumen evacuates air, the full fluted profile with four distinct channels enhances drainage surface area as much as 10x compared to traditional drains. The drain's direct high-flow transition from the in-dwelling design to a single bore tube increases flow to maintain patency and reduce the risk of occlusion by thrombus formation. The Coaxial's high flow rates and patency can benefit patients by decreasing drainage days and hospital length of stay.
To learn more about how converting to the Redax Coaxial Drain can save you money, time and complications, call 888-891-1200 or email us to be connected to your local representative.
---
MED Alliance Solutions is an ISO 13485 certified medical device distributor specializing in the importation, sales, marketing, logistics and distribution of cost-effective and innovative cardiac medical devices throughout the U.S.
Please follow us on LinkedIn, Facebook and Twitter for product updates!
[1] L. Molins – Results of Smart Drain use for VATS lobectomy. A prospective randomized study – 26th ESTS Meeting Ljubljana (2018).
[2] Ottavio RENA, MD, PhD, Sara PARINI, MD, Esther PAPALIA, MD, Fabio MASSERA, MD, Davide TURELLO, MD, Guido BAIETTO, MD, Caterina CASADIO, MD.Thoracic Surgery Unit – University of Eastern Piedmont – AOU "Maggiore della Carità", Novara – Italy; The Redax Coaxial Drain in Pulmonary Lobectomy: A Study of Efficacy