MED Alliance Solutions Attends The Society of Thoracic Surgeons Annual Meeting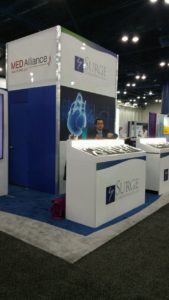 MED Alliance Solutions is a proud exhibitor at the 53rd Annual Meeting of The Society of Thoracic Surgeons January 21-25, 2017. Held in Houston, Texas, the conference focuses on cutting-edge technologies and new developments in cardiothoracic surgery.
MED Alliance Solutions has participated in this conference for years and represents multiple manufacturers of cardiovascular and thoracic surgical medical devices.
MED Alliance is an ISO 13485 certified medical device distributor with more than 350 years of combined medical device sales and distribution experience. Dedicated to meeting the needs of its clinical customers and manufacturing partners, MED Alliance offers cost effective, customized sales, marketing, logistics and distribution solutions.
If you are unable to attend the conference and wish to learn more about these or other medical devices sold and distributed through MED Alliance, please contact 888-891-1200 or [email protected] to be connected to the appropriate representative.