Mini Suture Guide Offers More Versatility with a Smaller Platform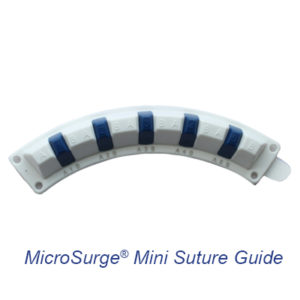 Do you snap your current suture guides in half?
Surge Cardiovascular responded with a solution when they discovered surgeons were snapping suture guides in half for more versatile placement during heart valve procedures.
The MicroSurge® Mini Suture Guide has the same exceptional quality and many of the same features as Surge's other suture guides, it's just a little smaller.
The Mini Suture Guide is curved and offers five slots, as opposed to the Curved Suture Guide, which has eight slots. The smaller defined radius allows for improved alignment with progressive incisions.
All of Surge Cardiovascular's suture guides enable surgeons to quickly and securely organize sutures to prevent entanglement and reduce clutter. The EZ Peel adhesive backing is easily removed and quickly adheres to the surgical drape. The guides are 100% latex free, leaving zero latex residue on sutures.
Surge Cardiovascular offers the most comprehensive portfolio of suture guides. They offer a Straight Edge Suture Guide, Curved Suture Guide and Mini Suture Guide, packaged in quantities that make sense. Learn more about Surge Cardiovascular's suture guides and packaging options.
Surge Cardiovascular continually responds to the needs of the industry by developing innovative, high-performing, reliable and affordable medical devices. A U.S., Service-Disabled Veteran-Owned Small Business (SDVOSB), Surge is dedicated to the design and manufacture of quality cardiac surgery products.
For more information about Suture Guides, contact your local MED Alliance Solutions sales representative, call 888-891-1200 or email us.
MED Alliance Solutions is an ISO 13485 certified medical device distributor and has been dedicated to meeting the needs of our clinical customers and manufacturing partners since 2007. We specialize in the sales, marketing, importation, logistics and distribution of innovative, high-quality and cost-effective cardiovascular and cardiothoracic medical devices on a national basis.
Please follow us on LinkedIn, Facebook and Twitter for product updates!