Increased Efficacy in Cardiothoracic Drainage in Exclusive Dual-Action Design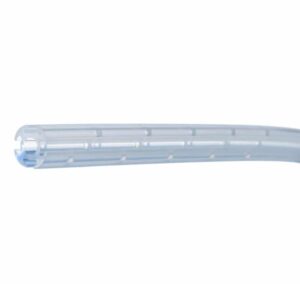 Is your hospital trying to control costs, increase performance and improve patient pain scores? One way to do so is to implement the Redax Coaxial thoracic catheter.
The Coaxial thoracic catheter is a dual-action catheter with two distinct pathways for drainage in one device. The catheter has the unique ability to drain air and fluid simultaneously in a single incision site, allowing you to use fewer drains and control costs.
The Coaxial's dual-action design features an inner lumen with distal perforations for air removal and an outer-fluted design to enhance fluid drainage surface area as much as 10 times compared to the conventional drain while minimizing tissue invagination. The design and material are also useful in preventing occlusion by thrombus or fibrin clots.¹ This, in addition to a direct high-flow transition, has been proven to evacuate more fluid/air in the most critical, early, post-operative hours as compared to the conventional chest tube."
Improved patient pain scores are attributed to the soft silicone construction and fewer tubes (incision sites). The fluted profile minimizes tissue invagination and enables early mobilization for a speedy recovery and patient satisfaction.
Learn more about the Redax Coaxial, exclusively distributed by MED Alliance Solutions. For more information about improving costs, performance and patient satisfaction, contact your local sales representative, call 888-891-1200 or email us.
MED Alliance Solutions is an ISO 13485 certified medical device distributor specializing in the importation, sales, marketing, logistics and distribution of cost-effective and innovative cardiac medical devices throughout the US.
Please follow us on LinkedIn, Facebook and Twitter for product updates!
Reference
¹ Clinical Study from The University of Eastern Piedmont, Novara, Italy.