Reduce the Potential for Tissue Damage with The Surge PEAK Left Heart Vent Cannula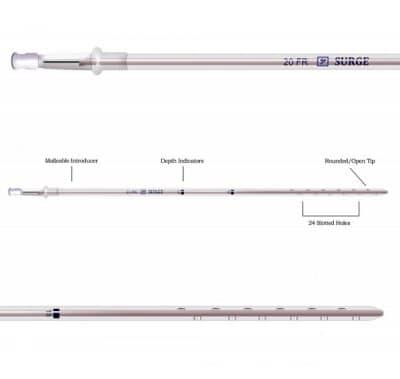 Cardiothoracic surgeons know the complications that can arise while venting the left heart during cardiopulmonary bypass. One of the common risks while inserting the cannula is tissue damage. Tissue damage and/or perforation can result in further complications during the healing process or even surgical intervention for repair.
Though traditional left ventricular vent cannulas have been used for decades, their designs do not mitigate potential trauma to the patient during insertion. Surgeons can reduce the risk of damage and perforations in the pulmonary vein, left atrium or the left ventricle by using a high-quality cannula that has specifically designed features for smooth insertion.
Surge Cardiovascular's PEAK Left Heart Vent Cannula mitigates damage and perforation through an innovative design. While traditional introducer or cannula tips are stepped or pointed and can result in damage or perforation, the PEAK LV Vent has a fully rounded introducer tip extending just beyond the cannula. The rounded nature of the tip allows for smooth passage through the anatomy.
In addition to the rounded tip, the frosted polymer coating on the introducer allows the cannula to be shaped via the malleable core but prevent it from sticking or grabbing upon removal through the bent configuration. The malleable stylet enables surgeons to confidently place and maintain cannula position in the apex of the left ventricle while the introducer retains its shape. The polymer stylet makes removal smooth.
This atraumatic insertion and removal of the stylet give surgeons confidence in the protection of the cardiac anatomy from perforation and surface damage. The product is available in three sizes to match each patient's specific needs.
The enhanced design of the PEAK Left Heart Vent Cannula offers surgeons the ability to improve patient safety. To learn more about the PEAK Left Heart Vent Cannula and other Surge Cardiovascular products, contact us by email or call (888) 891-1200.
---
MED Alliance Solutions is an ISO 13485 certified medical device distributor and has been dedicated to meeting the needs of our clinical customers and manufacturing partners since 2007. We specialize in the sales, marketing, importation, logistics and distribution of innovative, high-quality and cost-effective cardiovascular and cardiothoracic medical devices on a national basis.
Please follow us on LinkedIn, Facebook and Twitter for product updates!