Five Must-Have Medical Devices for Successful MiAVR
The MiAVR approach is growing in popularity due to the reduced invasiveness of the procedure while maintaining the same efficacy, quality, and safety of a conventional approach. Compared to conventional Aortic surgery via full median sternotomy, MiAVR (via upper hemi-sternotomy or Right Anterior Thoracotomy [RAT]) reduces postoperative mortality and morbidity, provides faster recovery, shorter hospital stays, and better cosmetic results. MED Alliance Solutions provides a comprehensive portfolio of high-quality, specialized cardiac medical devices for intricate procedures such as MiAVR that help surgeons provide better patient outcomes. The following focuses on product segments specific to MiAVR approaches:
Surge Cardiovascular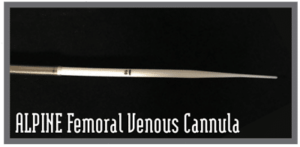 1. ALPINE Femoral Venous Cannula The ALPINE Femoral Venous Cannula was specifically designed to facilitate enhanced insertion and optimal drainage. Enhanced insertion is due to the ALPINE's:
Elongated tip which is ideal for guidewire tracking and percutaneous access
Extended taper which allows smooth dilatation over a longer surface
Seamless transition from introducer to cannula
Optimized drainage is due to the ALPINE's:
Seven proximally located wire-reinforced drainage baskets
28 drainage sites which improve overall flow rates
The Elast-Eon composition enables greater flexibility and is bio/hemo compatible. Surgeons have five sizes to choose from (20 – 28 Fr) based on preference and patient needs.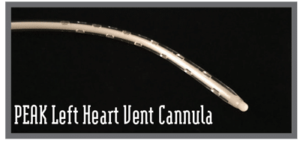 2. PEAK Left Heart Vent Cannula The PEAK Left Heart Vent Cannula features a malleable, polymer over-molded stylet that provides controlled maneuvering and precise placement, while its engineered, tapered transition provides smooth insertion and atraumatic navigation through cardiac cavities. The tapered open tip and 24-elliptical holes allow for superior, free-flow venting and optimal drainage.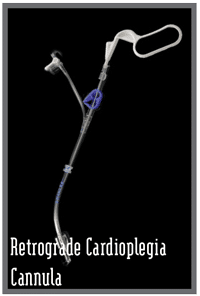 3. Retrograde Cardioplegia Cannulae Retrograde Cardioplegia Cannulae are available in more than 25 options for surgeon preferences and patient needs, including:
Smooth or textured balloons
Manually or self-inflating balloons
Rigid stylets or flexible guidewires
Luer or Sure-Touch handles
Redax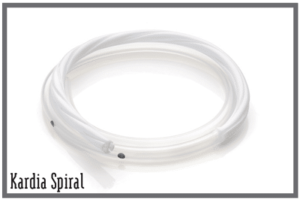 4. Kardia Spiral  The Kardia Spiral is a proprietary and innovative fluted thoracic catheter that enhances drainage surface area as much as ten times compared to the traditional drain. The inventive spiral design:
Enables complex positioning such as placement posterior to the pulmonary trunk
Improves ease of placement via smaller access incisions
Minimizes tissue invagination
The catheter's unique, direct high-flow transition enhances flow performance and helps maintain catheter patency which permits the use of a smaller French size. The Kardia Spiral's soft silicone composition reduces patient pain and discomfort for early mobilization, is bio and hemocompatible, and completely radiopaque. The Kardia Spiral thoracic catheter is available in a 19Fr and 24Fr size.
Delacroix-Chevalier & Péters Surgical
MED Alliance Solutions also offers a large variety of cardiac surgical devices and instruments from Delacroix-Chevalier & Péters Surgical. To learn about the additional MiAVR products we represent or any of our other innovative devices, call us at 888-891-1200 or email us to get in touch with a representative. Inquire Now!